Opto-Electronics Engineering (OEE )
ISSN 1003-501X
CN51-1346/O4
Editor-in-chief:
Professor Luo Xiangang
http://www.oee.ac.cn
Tel: 86-28-85100579,
86-28-85100692
E-mail:oee@ioe.ac.cn;
gdgc@ioe.ac.cn
Opto-Electronics Engineering (OEE ) is a peer-reviewed journal which covers all aspects of optics and electronics not only in fundamental, engineering research, but also in applications with broad interest. OEE publish research advances promptly, provide a platform for scientist to report and discuss scientific problem. OEE primarily publish research article, original innovative results and reviews in optics and electronics. OEE also provide special issue on hot topical research and cutting-edge research.
Opto-Electronic Engineering (OEE ), first issued in 1974, is a monthly journal sponsored by the Institute of Optics and Electronics, Chinese Academy of Sciences, and cosponsored by Chinese Optical Society. OEE is one of both Chinese core journals and Chinese core periodicals of science and technology, and it is covered by CA,Scopus,CSCD, CNKI, Wanfang. etc.
Scope
Optical Design and Engineering
Nonlinear Optics
Optical System Design
Micro- and Nano-optics
Diffractive, Interferometry and Physical Optics
Optomechanics
Opto-electronic Technology and Applications
Spectroscopy
Photonic Integration
Opto-electronic Fabrication, Testing, and Measurements
Optics in Life Science and the Environment
Lasers, Fiber Optics, and Communications
Lasers ,Laser Optics, and Laser Applications
Fiber Desigen,Technology and Applications
Optical Communications and Decice
Quantum Optics
Ultrafast Photonics
Optical Materials, Photonic Devices
Integrated Optics
Metamaterial, Metasurface
Optical Thin Films and Coatings
Plasmonics
Display Technologies and Devices
Optical Sensors
Opto-electronic Signal Processin
Information Optics
Target/Object Acquisition, Tracking and Recognition
Optical Data Processing and Storage
Adaptive Optics
Virtual Reality
Ultraviolet, X-Ray, and Gamma Ray Technology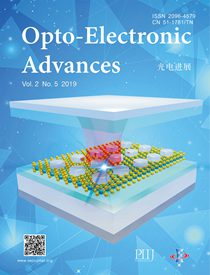 ISSN: 2096-4579
CN: 51-1781/TN
Professor Xiangang Luo (Institute of Optics and Electronics,CAS)
Executive Editor-in-Chief

:
Professor Minghui Hong (National University of Singapore)
http://www.oejournal.org/J/OEA.html
Editorial Office of Opto-Electronic Advances:
P. O. Box 350, Shuangliu, Chengdu, Sichuan, 610209, PRC
E-mail: oea@ioe.ac.cn
Tel: 86-28-85100579
Opto-Electronic Advances (OEA), launched in March 2018, is a monthly international, peer-reviewed and free online English journal. OEA publishes top-quality original articles, letters and reviews covering all significant research activities in the broad area of optics, photonics and optoelectronics.
Main topics include:
Light sources and sensors
Optoelectronics
Nanophotonics
Plasmonics and metamaterials
Optical imaging
Biophotonics and biomedical optics
Nonlinear optics and ultrafast photonics
Optical communications
Photovoltaics